Norman in the Morning.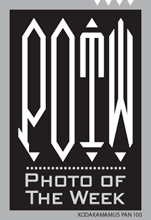 By Joe Dempsey | Sunday, July 26, 2015
Freckles of highlight break through
the shadows to cast interesting patterns on the miniscule, well-kept public library in Norman, Arkansas. Despite the welcoming "open" sign, the padlock on the door told us no-way today. The building is a popular target for photographers and outlanders who stumble across it — cute, quaint, and unique — sitting by its li'l ol' self in an two-city-block square all of its own.