The Last Button on Gabe's Coat.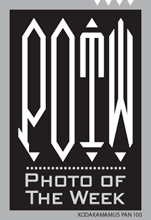 By Joe Dempsey | Sunday, July 20, 2014
The American Lotus colony
in the pond in the southeast corner of the junction of I-530 and South Hazel Street is a worthy, if not fickle photographic target. Last year, I managed to capture some "half-way-decent" images of the colony population. 2014 was a different story. The blooms were scattered and always showed me their backside. I was about ready to throw in the towel and wait for another 12 months — presuming the Almighty would see fit to allow my survival to and through the next far-too-short blooming season.