Dr. Roca Presents Ideas on Teaching Heritage Speakers of Spanish.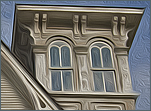 By Freddie A. Bowles | Wednesday, September 17, 2014
I love languages — plain and simple.
I love the sounds, the ability to communicate with someone who has a different world view, and the challenge of decoding a complex system of sounds and patterns that mean something in an entirely new way. Living in northwest Arkansas, I have the opportunity to practice a number of languages, but most of all, I have an obligation to keep my language learning current in order to share the knowledge with my future teachers in the MAT program.