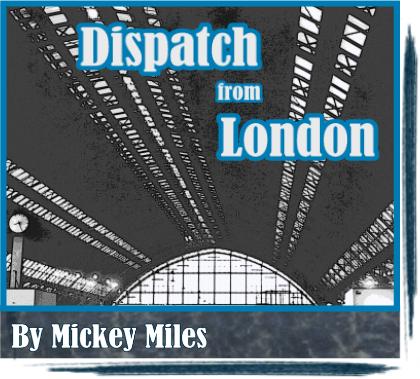 Dispatch Number Six
---
Nurse Edith
And Private Burns.
---
DATELINE:
Wednesday, November 8, 2000, at 1200 hours CDT.
Once More From the Top.
A Toast from Mickey to Edith and Robert.
EDITOR'S NOTE: Mr. Miles is a professional journalist and political operative who moved to London in summer, 2000, to explore a new line of endeavour.
You probably never heard of Edith Cavell. And I'm quite certain you don't know who Robert Burns was — that is, the Robert Burns who was born in Gourock, Scotland, in 1895.
The statue of Edith Cavell stands tall and proud today in a triangularly-shaped island, about 75 yards north of Trafalgar Square in London. Dressed in her nurse's outfit with cap and long cape, her marble countenance gazes serenely over the sea of humanity passing her by, oblivious to her presence. They don't know who she is, they don't care who she is.
But at one time, way back in The Great War, Edith Cavell's name and her fate became front-page headlines. She was a British nurse living in Brussels when the German army overran it in 1916. She was 49.
Tried for Treason by the Germans.
It seems that Edith had helped numerous British soldiers and Belgian soldiers escape to Holland. She was tried for treason by the Germans and readily admitted her guilt, although she wasn't trying to aid the war effort as much as she was trying to help fellow human beings.
While treason in peacetime is a serious offence, in wartime it is a capital offence.
It is said that the demure Edith borrowed pins from the soldiers guarding her to hold her skirts down so they wouldn't fly up when she was hit by the bullets.
Edith was shot by a firing squad on the morning of October 12, 1916. Struck by four bullets, she died instantly. According to The First World War by Martin Gilbert, she faced her executioners with courage and dignity.
'Patriotism Is Not Enough.'
On the night before her death she told an American chaplain: "They have all been very kind to me here. But I would say, standing as I do in view of God and eternity: I realize that Patriotism is not enough. I must have no hatred or bitterness towards anyone."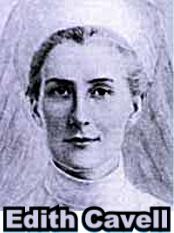 If Edith had no hatred towards anyone, the English and American spinmeisters of the day did. Her execution provided them with a very rich fodder. At that time, the war was a little over two years old and stood at a stalemate. All of the major participants -- England, France, Russia and the Germans, Austrians, Hungarians, and Turks -- were being bled white by a war which introduced the first weapons of mass destruction. Machine guns, poisonous gas, submarines, barbed wire, tanks, long range artillery: All of these weapons took the stage in World War One.
The United States was not the war when Edith was executed -- not yet.
An American newspaper published a false rumour that Edith had fainted on the way to her execution and that a German officer had shot her to death as she lay on the ground. The paper printed a cartoon showing a German officer with a huge smoking revolver standing over the prostrate Cavell. It was propaganda of course, but it worked.
An Old Man's Death Provides a Break
From British Obsession with World War II.
The London newspapers are a wonderful mixture of news, gossip, sexual scandal, government misdeeds, and obituaries. They are still fighting World War II over here, determined to remind themselves and everyone around them how hard they fought in the Second World War. Rarely is there a mention of World War I.
However, the Nov. 4, 2000, issue of The Times contains an obituary of one Robert Burns, a survivor of The Somme. World War I has been over for more than 80 years. Survivors, in whatever form, are rare.
There are two photographs of Burns in the paper. One shows a solemn-faced lad dressed in army uniform, his hat cocked slightly to the right, a hand resting on a table to his left. The other photograph shows a distinguished looking elderly gentleman, dressed in suit and tie and staring back at you with bright intelligent eyes.
Out of the Trenches and into the Fray.
Burns was a private in the Queen's Own Cameron Highlanders. He was 21 years old. His battalion lined up in trenches on the morning of July 1, 1916. At the command, "over the top," they crawled out of the trenches at 4:00 in the morning and charged the Germans.
"A fierce bombardment from our side was supposed to have softened up the German lines, but it was quite clear early on that everything was not going to plan."
Not going to plan? God, I love that understatement.
The Germans had dug deep trenches and lined them with concrete, so that even if the British bombs hit nearby, they would survive. And they survived the "fierce bombardment." After the shelling stopped, the Germans calmly climbed out of their trenches and manned their machine guns and mowed the British soldiers down like a lawnmower cutting grass. The British got hung-up in barbed wire, but their commanding officers kept hurtling human waves against the Germans.
One German soldier wrote home after the battle that he and his comrades felt sorry for the British soldiers. Not sorry enough to stop killing them you understand, but there was a feeling of anger at the British officers who would send these brave men to their death.
Burns survived the Somme battle in France, but out of his battalion of 800 men, only 75 remained! The British lost 20,000 killed in action in one day. The battlefield was carpeted with the dead. Bodies hung in barbed wire for days.
Burns was wounded in another battle and his war was over. But to the end of his days, he remained an articulate spokesman for veterans of The Great War.
Edith Cavell Comes Home
When Edith Cavell's body was returned to London after the war, her coffin was transported on a gun carriage through the streets of London. For some reason the city went quiet that day and no one knows why. But whether out of respect or chance, her remains passed quietly through the London. The last couple of lines are on her statue today: "I realise that Patriotism is not enough. I must have no hatred or bitterness towards anyone."
Robert Burns Comes Home
Burns made his last journey to the Somme in 1998.
"With his fine physique he was a great support to other, frailer members of that diminishing band as they strove to make their yearly pilgrimages to the grim fields of Flanders, Artois and Picardy," according to The Times. Also according to The Times, "to the end he enjoyed his cigars and his whiskey."
Lift Your Glass to Both of Them!
And so, a toast from Mickey Miles to Edith Cavell and Robert Burns! God Bless you, and thank you for your service.
---
---
EDITOR'S NOTE:
WATCH FOR DISPATCH NUMBER SEVEN
in your mailbox on Wednesday, November 15, 2000.
If you don't care for any more Dispatches, let us know.
We will remove you from the subscription list
immediately upon your demand.
On the other hand,
if you want to add a friend or associate to the list,
please forward their name and email address to
ebenezer@corndancer.com
Visit the web site at www.corndancer.com
| ©2000 by David Ebenezer Baldwin Bowles |
| Send e-mail | 501.450.7989 |