The Manic Bicyclist
Pedals and Imbibes
Along the River Thames.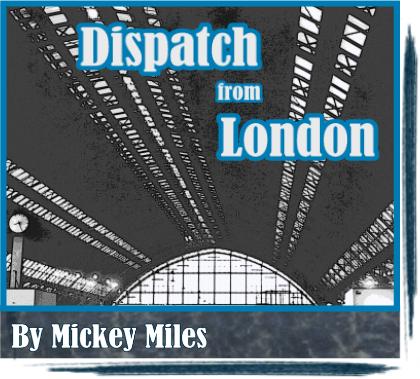 Dispatch Number Fifteen
---
Hurrying
to the Whinge Session.

---
DATELINE:
Tuesday, October 29, 2002, at 1200 hours CDT.

SPECIAL to corndancer.com
EDITOR'S NOTE: Mr. Miles is a professional journalist and political operative who moved to London in summer, 2000, to explore a new line of endeavour.
I'm riding my bicycle these days through the streets of London. You ought to see me. With my helmet and bright yellow rainproof jacket, I look like some kind of giant bug.
Anyway, I had a three-day weekend not long ago. Got off at 2 a.m. in the morning on a Friday, got up at 7 a.m. and hit the road. Now someone sensible and sane would have planned out a trip with timetables, maps, compass, provisions, etcetera. Me? I just struck out with an idea of going to Richmond, a city southwest of London with a famous park.
Ben Ben Tolls Eight.
In the darkened early morning traffic, I go past the Whitechapel foundry where the Liberty Bell was cast, and head towards the River Thames. Believe it or not I hear Big Ben tolling the hour of eight. I cross the Thames on Blackfriars Bridge and grab a cup of coffee and a sweet roll at a Starbucks on the south side of the river.
I pedal on to Vauxhall Station, where I buy a roundtrip ticket to Richmond. The station signalman assures me that I can put my bike on the train. I am going against the grain. Hundreds of cricket fans are pouring out of the station to see England versus India in the Vauxhall Stadium.
Thirty minutes later I am in Richmond. I ask directions to the park and ride to the top of a hill and ride through part of the park. In the back of my mind I had already decided to ride my bike back to London. So I wasn't in Richmond long — just long enough for a pint of Guinness at some pub.
Tacking along the Thames.
Anyway I asked a policewoman for directions back to London and she said go to the bottom of the hill and take a left, which is what I did. Obviously all I had to do was keep the Thames on my left and ride alongside of it. I rode for about two hours and stopped for a break at The Ship, a riverside pub. Fortified by a Guinness and a steak-and-ale pie, I hit the road again.
The track was level and most of it was paved, but much of it was dirt and gravel. There were very few people on the path. I saw joggers and a few bicyclists, but mostly it was just me and my 8-to-10-mile-an-hour pace. I finally got tired, and since I wanted to make the Friday evening whinge session at the Flying Horse near Finsbury Square, I dismounted at Barnes Bridge. Got on the train again, got off at Vauxhall, and pedaled to my flat near East Allgate. It was a real good day.
---