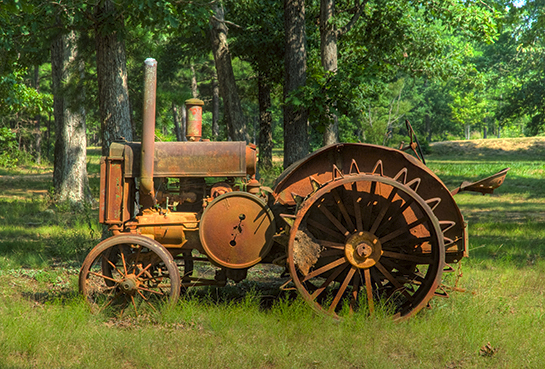 Sunday, October 28, 2007
You are looking at a D-Model John Deere tractor. The first D-Model rolled out of John Deere's factory on March 1, 1923. Through many permutations, the D-Model stayed in production until July 3, 1953.
Someone was doing something right. This particular specimen resides just a bit south of Mountain View, Arkansas.
The formerly green, now rust-toned beast made an appearance in my field of vision as I was beating a hasty retreat from Stone County (fortunately with no one in pursuit). The thing was crying out, "Shoot me, shoot me, shoot me!" Who am I to ignore such a plaintive cry for immortalization? The light was dead solid perfect. Yea, the golden hour treasured by photographers was at full throttle.
It is said that the Lord takes care of fools and drunks. This happenstance codifies that premise. Particularly since both conditions are applicable in my case.
As normal, a few minutes after the tripod was set and serious composition and lighting considerations were in the works, up drives a human being. He wanted to know what was going on. He got my normal and practiced rejoinder to that eternal question. "I saw the tractor and believed it would make a good picture." And I showed him a couple of shots in the camera's monitor. He seemed duly impressed and about that time, still yet another human being arrived on the scene. Turns out it was the first human being's father.
To my good fortune, the father had indeed kissed the blarney stone. He is a fine practitioner of conversational arts. For about the next 15 or 20 minutes, between the father and myself, that part of Stone County was so inundated with barnyard fertilizer, it was too late to save anything but your watch — but only if you held your arm up.
The tractor was originally bought by the father's father and was a working implement for many years. When its use began to wane, it held a more or less stationary place in the front yard. That is until some of its miscellaneous parts began to disappear at the hands of miscreant passers-by. So it was moved to this location on a road less traveled.
I made my final shots and fielded a request to send a print or two.
There's not much of a moral to this story except to say that the first thing you have to do to get shots like this is to be there — a condition which requires one to get off his (or her) butt and go somewhere, do something. I got lucky. And I'd rather be lucky than good any day of the week. In this case, I'm pleased to say, I made my luck by being there. Could be a lesson in that.
For the technically oriented, you started the tractor by manually grabbing the immense flywheel (the big round thing on the side of the tractor). It started on gasoline and ran on tractor fuel, a lower quality hydrocarbon not subject to the gas tax. You can see the small gasoline tank on the dashboard. After the tractor was successfully started, you switched the fuel supply to "fuel."
The engine is a two-cylinder side-by-side arrangement with a bore about the size of an oil can and a stroke about half as long as a ball-bat... or so. It took a full-grown man to start one of these boogers. The engine rang forth with the distinctive John Deere "pop" ... engine music, in its own right, as unique as that of a Harley-Davidson.
N O T E :
Nikon D200 / ISO 100 / 'pod mounted / Nikon 18-70 Zoom / Post processed with Photoshop CS3 and Photomatix HDR.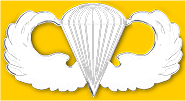 Click the jump wings
to see the previous Photo of the Week. . . .