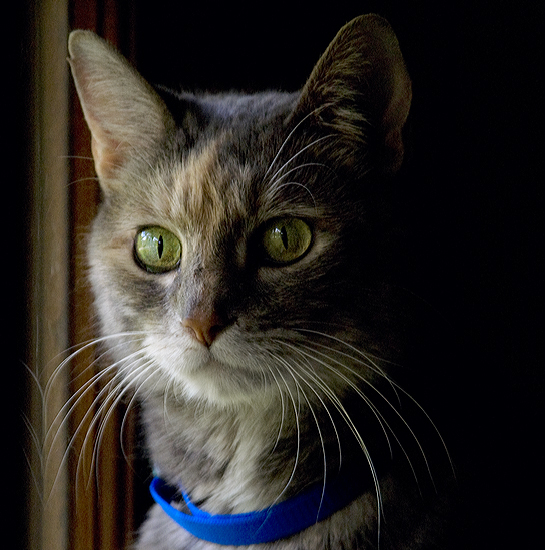 Sunday, August 24, 2008
You are looking at Chessie. At the window, she had her eye on Kodak, a yellow tabby and family member. Chessie's genetic pool is aptly described as potpourri. Her mother was probably named "Target," because it appears that every tomcat in town had a shot at her. She looks like someone stood back ten feet and threw left-over cat hair at her.
In the nearly extinct East Sargonian dialect, I believe Chessie means "weird, but interesting." Her demeanor is in sync with her unique appearance. She will pass up a bowl of freshly poured water to grab drops from the kitchen sink faucet — a more sporting way to slake her thirst, I surmise.
Chessie's late former master — an animal lover of the third magnitude — moved to an assisted living facility, and Chessie was not invited.
His niece and nephew, good friends and good people, assumed the mantle of responsibility to see that Chessie and their uncle's other pets were well taken care of. Meanwhile, back at the ranch, the new caretakers set about running traps to ferret out suitable homes for the needy herd members. We were close to the top of the hit list. They knew in their hearts about the Dempsey's round heels when it comes to critters. I went for the bait.
Chessie's "warm up to the new humans cycle" was a bit longer than some others. The first good sign she was coming around was when she started hopping on the bed just before lights out and curling up my feet. Not every feline will do this. But mind you, a good cat will. Having a warm, fuzzy wad of purring life nestled up on or around your feet as you nod off is not too shabby.
She is a back archer, too — a cat's happy body language to demonstrate appreciation for rubs and scratches. Now she spends her days mostly in the house, frequently curled up under a chair in my studio/office, nee dining room. With Kodak, it's let the cat in, let the cat out, it's let the cat in, let the cat out ... repeat if necessary. Katie, a nearly all Russian Blue, the youngest, is developing the same tendency.
Despite that, I've always been a cat guy. (Thank goodness, my three dogs can't read this). It's a genetic thing. My late father loved 'em. So do my brothers. My boys were and are cat lovers as well. It appears that my grandchildren have not rejected the trend.
Even though cats have been domesticated for eons, their hunting instinct has never gone away. If you have cats, you don't have to watch Animal Planet to see a good stalk. You can see it firsthand in your own back yard. You also get to see the spoils of the hunt proudly deposited on your back porch. Mice, rats, and moles will learn to eschew residence close to your premises once they realize the kitty is on patrol.
Yuk, you say. Think again. With these fuzzy creatures, you are partners with an animal who still possesses just a tad of jungle instinct. Makes life interesting.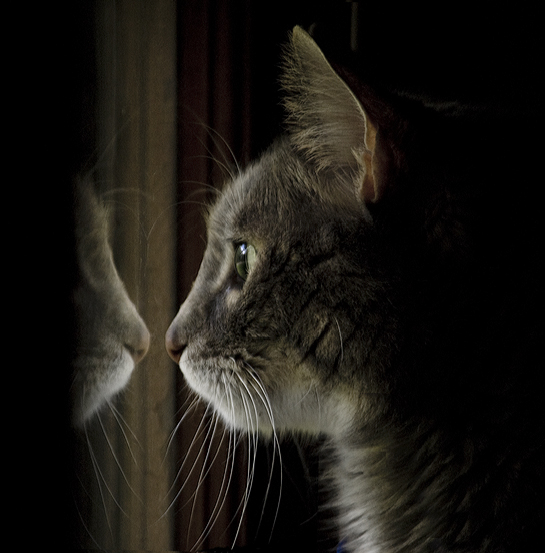 N O T E S:
Nikon D200 / AF Nikkor VR 80-400mm f3.5-5.6D / Post processed with Photoshop CS3 Extended and Genuine Fractals Print Pro.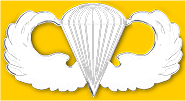 Click the jump wings
to see the previous Photo of the Week. . . .