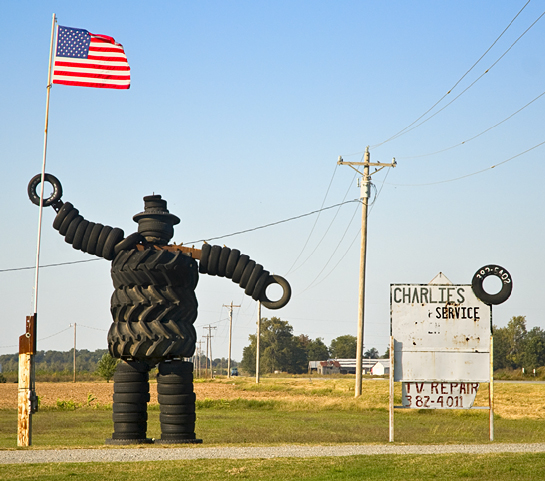 Sunday, October 26, 2008
It's a Family Thing.
You can't miss him. There he is, standing proud on the side of US 165 between Pendleton and Backgate in the flat Arkansas delta, bigger'n Dallas: the tire man.
Leo Bottoms is the engineering creator of the rubber sculpture. I found that out soon after I pulled into the home of the tire man, who stands next to a nice-sized metal shop building. Approaching the shop, I asked the first person I saw if he was the creator. "No," Wayne Bottoms answered, "my dad Leo is responsible for it." Wayne provided that information with a smile on his face, laced with a strong hint of family pride.
When I asked Wayne how the tire man came about, he told me a heart-warming story, showing clear evidence of a strong, caring family.
Charlie, of Charlie's (Tire) Service, is Wayne's uncle, his mother's brother. Charlie spent most of his adult life working in the tire operation of a service station in Camden, Arkansas. Eventually the owner of the station retired, leaving Charlie with not a lot to do. There being no other relatives in Camden, Wayne's mother decided that it would be best if they brought Charlie to their neck of the woods near Pendleton.
Since Charlie had a wealth of experience in the tire business and was very good at what he did, Leo decided to put him in the tire business in the aforementioned shop building on his farm. But that wasn't enough. Demonstrating good marketing acumen as well as sharp "creative engineering," Leo hatched the idea of the tire man as a publicity attraction.
The tire man took shape, helping Charlie build a brisk tire business there in the delta. "He did a good job and helped a lot of folks," Leo said.
Charlie and Leo are both retired now, but the unanimous decision was to leave the tire man in place. After all, the man had become a well-known landmark and a great target for itinerant photographers.
Wayne says a lot of people stop and take pictures of the tire man.
"There were a couple of others earlier today," he said. He chuckled as he told a story revealed to him by one his daughters, a student at Mississippi State University in Starkville. Turns out, one of her friends at MSU told her the only thing she knew about Arkansas was the tire man. THE tire man.
As I was wrapping up the shot, Leo came driving up in a fine pickup truck. We introduced ourselves. It didn't take long for both of us to figure out that a couple of experienced practitioners of the conversational arts had met on a fortuitous afternoon in October.
During the conversation, Leo revealed another of his engineering feats. His shop is not small. In fact, it's big enough to hold half a basketball court. In the finest community spirit, he built a basketball goal in the shop with the help of a hydraulic lift. Swing it down, and the building becomes a community basketball venue. Swing it up — and bring in equipment for maintenance and shop stuff.
The Bottoms family shows us what family is all about. From what I observed, they do what they do because it's the right thing to do.
Goodness is alive and well.
N O T E S:
Nikon D200 / AFS Nikkor 18-70 f3.5-4.5G ED / ISO 100 / tripod mounted / 1/1000 @ f4.5 – 70mm / Post processed with Photoshop CS3 Extended and Genuine Fractals Print Pro.

Bidding farewell to the Tire Man, I continued my Sunday afternoon saunter through the delta. See more pictures and other titillating information here: Weekly Grist for the Eyes and Mind
Click the jump wings
to see the previous
Photo of the Week.

Click the camera
for an index to every
Photo of the Week.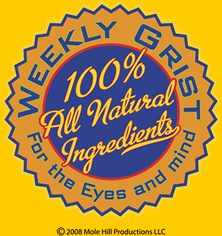 Most of the time, there is more to the Photo of the Week story than can be told in an essay. And most of the time there are more pictures to be seen. Presuming that some folk will enjoy being privy to this trove of information, I have created a blog, "Weekly Grist for the Eyes and Mind," where I am showing and telling "the rest of the story." There are also some blatantly commercial mentions of some of the things we do to earn our beans and taters. Click on the Weekly Grist logo and go to the blog. — J. D.