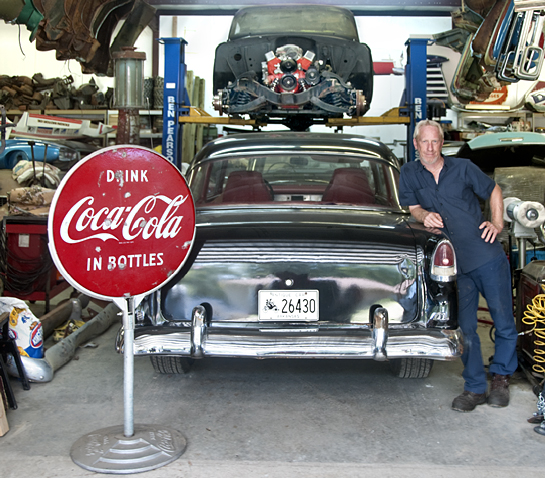 Tuesday, August 18, 2009
Besides being one of the best mechanics on the planet, Joe Webb is an astute collector of mid-20th century signs and a few other goodies here and there. Most of the artifacts comprising his collections were built, used or hatched before Joe was an itch in his daddy's jeans. Joe is chief cook and bottle washer at Webb's Auto Service in Pine Bluff, Arkansas.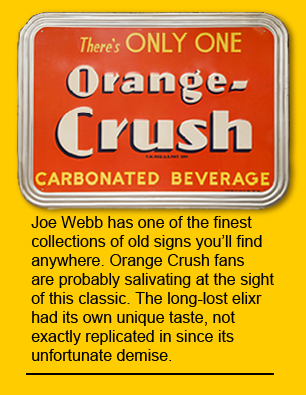 To say that those who will not allow anyone else to touch their vehicles are legion is probably the ultimate British understatement. I am among that legion, as was my late son, who would drive his pickup (the one I now drive) from Dallas to have Joe perform service on its innards. While Joe uses all of the latest diagnostic equipment, it is normally a practice in confirming his own diagnostic suspicions. He can look and listen — and most of the time, tell you what is amiss with your vehicle based solely on his observations.
Joe came by it honestly. His father, Volley Webb, started the business as a service station in 1953, nine years before Joe Webb became a member of Mother Earth's population. The station prospered. At one time the station had seven full-time employees, including Joe's grandfather, Robert "Pop" Webb. "Pop" took care of the tire side of the business and also saw to it that every child who came in the station with their parents got a piece of bubble gum. "He had a barrel full of bubble gum," Joe said.
At the same time, Joe's mother, Betty Webb, operated Webb's Snack Shop in the same building as the station. Betty's hamburgers were legendary. Postmen gathered there like bees to honey.
Ill health forced Volley to sell the station in 1979, the year before Joe graduated from high school. Joe, who had been working on cars since he was 13, already had a following. As soon as his school day was over, he'd come to the station and fix cars, by request.
The purchaser of the station wasn't up to the job and Volley had to take it back. So, a few months before Joe graduated from high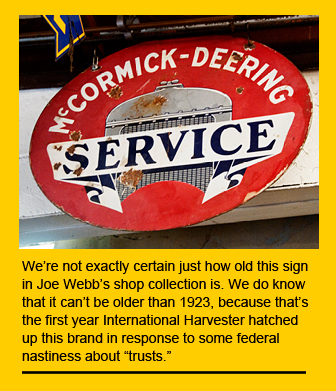 school, he was running the business after school. When he graduated, he jumped in full time and has been there since. Joe got out of the gas business in 1992 to focus solely on repair and restoration.
The picture of Joe at the top of the page is in his shop at home. He's leaning against a '55 Chevy. The vehicle on the lift behind him is a '55 Chevy "sedan-delivery" that he's rebuilding to Webb Chevy specs. He likes 55s. He has eight cars and 22 '55, '56 and '57 Chevy "parts cars."
Joe Webb is a happy dude. He works his butt off doing what he likes to do. He has a loyal following, who are willing to pay him to do it. He is a picture of success. Sure, he's a great mechanic. But his secret is something else — a rare commodity in these times — honesty. If Joe Webb tells you a rooster is going to pull a train, go to the depot and buy your tickets.
N O T E S:
Nikon D300, ISO 200, Large shot with Joe, Nikkor VR 18-200mm f3.5-5.6 G ED, tripod mounted both shots. Post processed in Photoshop CS4 Extended and Genuine Fractals print pro. The final image was composited from several exposures. Base exposure was 1/20 @ f3.8 @ ISO 200. The orange crush shot was 1/50 at f8 with a White Lightning 10,000 bounced off the ceiling. McCormick-Deering was hand held 1/30 @ f8, ISO 640.

The story continues. Click here and see another 55 Chevy and more signs on our blog, Weekly Grist for the Eyes and Mind.
Click the jump wings
to see the previous
Photo of the Week.

Click the camera
for an index to every
Photo of the Week.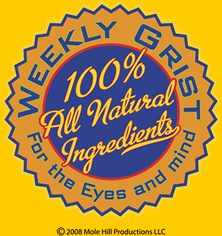 Most of the time, there is more to the Photo of the Week story than can be told in an essay. And most of the time there are more pictures to be seen. Presuming that some folk will enjoy being privy to this trove of information, I have created a blog, "Weekly Grist for the Eyes and Mind," where I am showing and telling "the rest of the story." There are also some blatantly commercial mentions of some of the things we do to earn our beans and taters. Click on the Weekly Grist logo and go to the blog. — J. D.