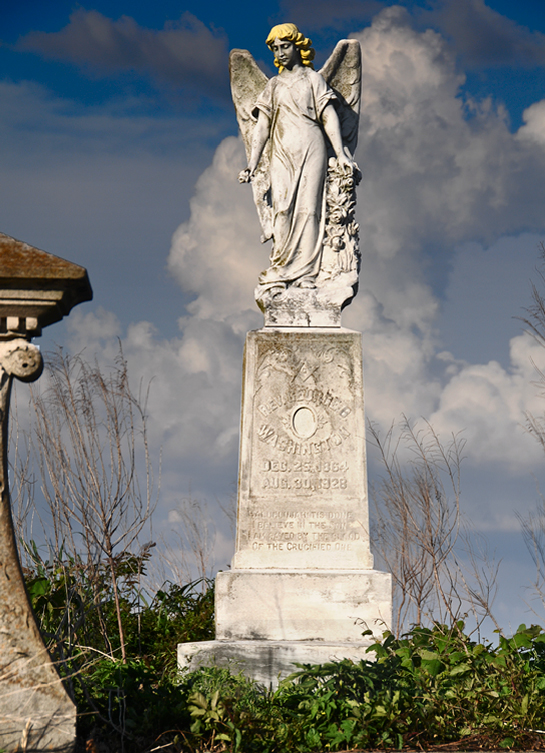 Sunday, May 23, 2010
I was not prepared for what I saw. I had rounded a gentle curve on Arkansas Highway 149 just north of Earle, near what I discovered later was the co-mingling junction of Gibson Bayou and the Tyronza River. At the time, I was thinking the day's shoot was over.
All of a sudden, there to my wondering eyes stands an angel statue, all by its lonesome, sprouting like a lone asparagus stalk from a man-made hillock in a soybean field. When I get even with the statue, I see an entryway and a low masonry wall as part of the arrangement. One would suspect a cemetery — and my suspicions were correct.
Underneath the angel lie the remains of one Rev. George B. Washington. The obelisk upon which his guardian angel stands is emblazoned with:
REV. GEORGE B. WASHINGTON
DEC. 25, 1864
AUG. 30 ,1928
HALLELUJAH TIS DONE
I BELIEVE IN THE SON
I AM SAVED BY THE BLOOD
OF THE CRUCIFIED ONE

During Rev. Washington's sixty-three years and eight months, the unpleasantness between the states came to an end, the Spanish American war was fought, the radio, automobile, and airplane were invented, and World War I was waged and concluded. The reverend met his final reward a year and two months prior to the Great Depression. The Almighty may have spared him some misery.
Update, May 28, 2010:
I did my normal research on Rev. George B. Washington and initially came up with a blank. A day or so later, it occurred to me that Earle was in Crittenden County, Arkansas, where my good friend and fellow curmudgeon Larry Fugate was editor of the Jonesboro Sun for what seemed like forever. I was confident that if Larry did not know any details about the Angel in the bean field, he would steer me in the right direction. I was correct. Although he was as much in the dark as I was, he pointed me to a source who immediately identified the site as the grave of George Berry Washington. When I googled "George Berry Washington," the information flowed.
George Berry Washington was born a slave around 1864 and was named George Washington, Jr. Sources are not certain as to the exact date of his birth, but Christmas Day, 1864, was apparently acceptable to most. I was not able to discover when he became George "Berry" Washington.
Despite his humble beginnings, Washington became a very successful farmer, ginner, and merchant. He was also pastor of the St. Peter's Missionary Baptist Church to which he donated five acres for a cemetery. By 1911 he owned more than 1,000 acres. He was a mason and a leader of the Prince Hall Free Masonry Lodge. Not long after his death, Washington's property was lost by his family during the Great Depression.
The statue is 13 feet tall and was placed by his widow and daughters. The hillock upon which the grave and monument stand is an Indian mound about 10 feet tall. On August 11, 1994, the "George Berry Washington Memorial" was listed on the National Register of Historic Places.
Prior to listing on the national register, the site gained some notoriety as the subject of a painting by a noted artist, the late Carroll Cloar. His painting of the site, "Angel in the Thorn Patch," was exhibited by the Brooks Museum of Art, and is a favorite among Cloar aficionados.

The hill upon which this one-grave cemetery resides was marked by small flags at the corners around the base. Probably an imaginary border, which says don't plow, disk, or plant here. You can clearly see the man-made hillock, still respected 82 years after the grave was closed.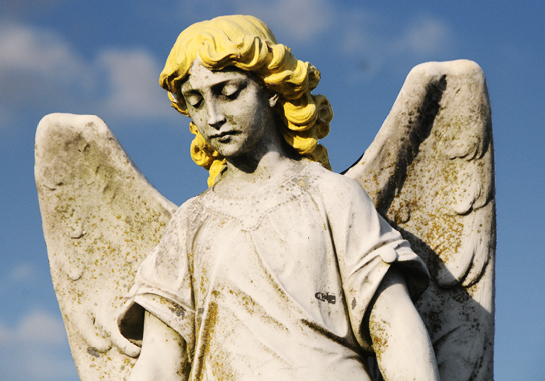 Someone decided to guild the lily, ah, er, the angel with blonde tresses. The paint job is probably recent, but who is to know. Far be it from me to question intent in anyone. It's their business.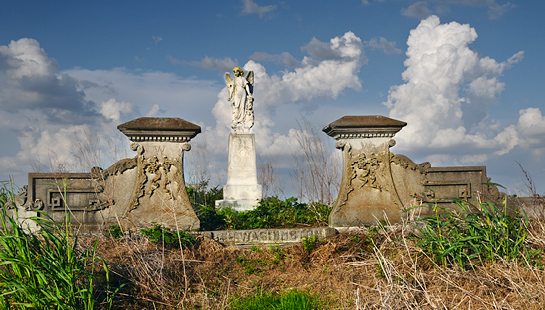 Folks in the 19th century were not shy about memorializing their dearly departed relatives. Even though it is isolated, this memorial is right up there with the best of them, so one presumes that the good Rev. was a beloved member of his community and family. A couple of hours drive to the east at Helena, Arkansas, you'll find Maple Hill Cemetery, a treasure trove of similar memorial statuary.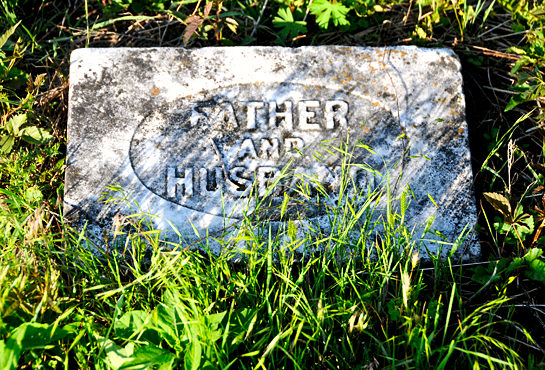 Washington, though known to be "uneducated," had a passion for education and saw to it that his daughters were schooled. The marker above is close to the foot of the Angel statue. It is my guess is that George Berry Washington's remains lie under this marker.
Washington's story is that of a great American who did well for his family and his community in spite of having two strikes against him at birth. It is a story worth telling over and again.
I bade Rev. George goodbye and made my way home, marveling at what people do. Conversely, there are some who cast a suspicious eye in my direction. I say, let 'em cast.
N O T E S:
Nikon D300, tripod mounted, ISO 200. All images composited. Base exposures are: top, AF-S VR Nikkor 18-200, 1/640@f10; second, same lens, 1/640@f13; third, 1/500@f10; fourth, 1/640@f10. Post processed with Photomatix Fusion, Genuine Fractals Print pro and my hot little hands.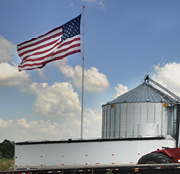 SEE MORE PICTURES
and discover how blues legend BB King came to name all of his guitars "Lucille" on our blog, Weekly Grist for the Eyes and Mind. Also, see a thunderhead forming, the building eaten by ivy, a farmer's flag, and a lot more. Click here to go there.


Click the jump wings
to see the previous
Photo of the Week.

Click the camera
for an index to every
Photo of the Week.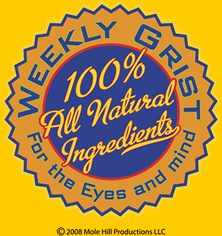 Most of the time, there is more to the Photo of the Week story than can be told in an essay. And most of the time there are more pictures to be seen. Presuming that some folk will enjoy being privy to this trove of information, I have created a blog, "Weekly Grist for the Eyes and Mind," where I am showing and telling "the rest of the story." There are also some blatantly commercial mentions of some of the things we do to earn our beans and taters. Click on the Weekly Grist logo and go to the blog. — J. D.