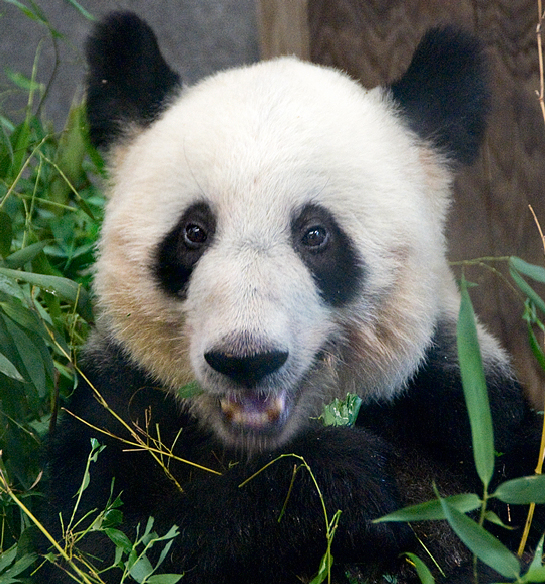 Sunday, June 6, 2010
Le-Le, one of Memphis Zoo's two resident Giant Pandas, looks up from munching away on his daily fare of bamboo and flashes a smile at an admiring audience. They (the admiring audience), marveling at the munching, are separated from Le-Le by a plexiglas wall. His partner Panda, Ya-Ya, was nowhere to be seen. Maybe she had a headache.
In their special panda enclosure, Le-Le and Ya-Ya each wolf down more than 40 pounds of bamboo in a day's time. The zoo bamboo crew stays busy, daily harvesting enough fresh bamboo in the Memphis area to satiate a couple of voracious panda appetites.
The Memphis Zoo is one of only four in the United States to be favored with a panda presence. The other three are Atlanta, San Diego, and Washington D.C.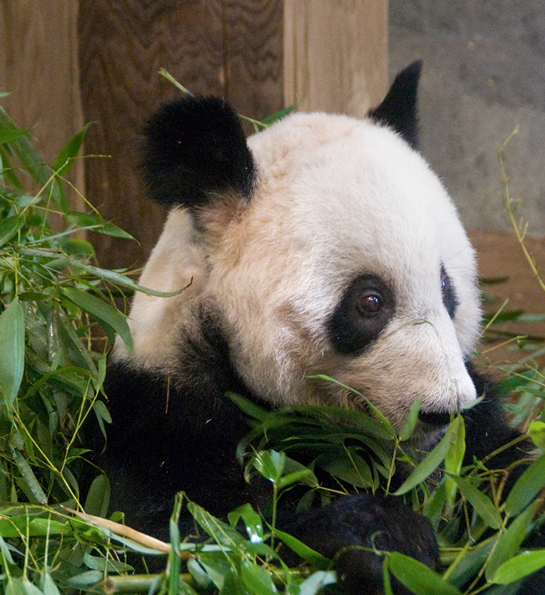 Le-Le and Ya-Ya arrived at the zoo in 2003 on loan from the People's Republic of China at the princely sum of $1 million per year for ten years. Should Le-Le and Ya-Ya hit the jackpot with a panda cub, there is a one-time $600,000 baby tax due to the Chinese government. Hopes were high in 2007, but those hopes were dashed when Ya-Ya had a miscarriage.
Not far from the Pandas, one of their northern cousins attracted an even larger audience as he frolicked in his pond. The giant polar bear is as much at home in the water as he is on the frozen tundra he calls home. This one seems to have adjusted nicely to the mid-south environment he now calls home.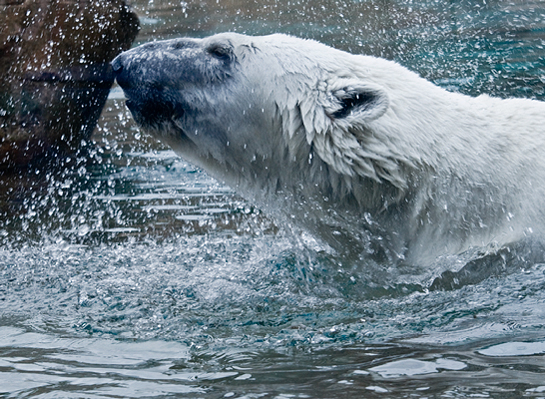 If you think your 80-pound lab can make a good spray when he shakes off water, imagine what a 900-pound polar bear can do. His spray is more aptly described as H2O shrapnel — with a respectable dispersion pattern.
My zoo visit was punctuated by a short rainstorm. Fortunately the sky looked more threatening than the storm turned out to be. I found some shelter because Nikon and water are not good partners. I discovered a benefit to the rain shortly after it subsided. The rain was apparently welcomed by some zoo residents.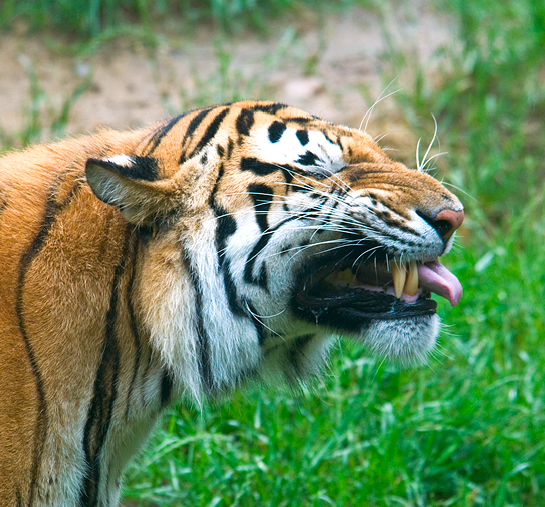 The slight downside of the rain delay and sweltering aftermath was more than compensated for by increased activity in some zoo denizens who previously had demonstrated little interest in cavorting and showing off. A notable instance was this tiger. Not long after the rain subsided, he (or she) wandered around the enclosure, belted out a couple of nice roars, and then made a face. At just the right time in world history. ASIDE: Last October, we visited the Little Rock Zoo and found a fine Malayan Tiger.
We consider zoo visits to be an essential component of life, much like we consider chocolate to be an essential nutrient. You can only go so long without exposure to one and consumption of the other. With handy snack bars scattered about most zoos, one can easily satisfy both requirements in one trip. Life is good.
N O T E S:
Nikon D300 Hand-held; Pandas: First, 1/50@f5.6, ISO 3200, AF-S VR Nikkor 18-200 G ED; Second 1/80@f5.6. Polar bear, 1/250@f8, ISO 400, AF-VR Nikkor 80-400 f4.5-f5.6 D. Tiger, 1/250@f6.3, ISO 500, AF-VR Nikkor 80-400 f4.5-f5.6 D. Original shots, no compositing this time. Panda and polar bear were shot through plexiglass. Post processed and color corrected in Photoshop CS4 Extended. Size adjusted with Genuine Fractals Print Pro.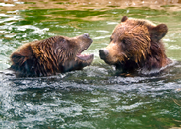 SEE MORE ZOO PICTURES
on our blog, Weekly Grist for the Eyes and Mind. You'll see some cavorting grizzlies, massive monkeys, meerkats and more. Plus there is a link to our weekly gallery of shots which include many more panda pictures.
Click here for a ticket to the zoo.


Click the jump wings
to see the previous
Photo of the Week.

Click the camera
for an index to every
Photo of the Week.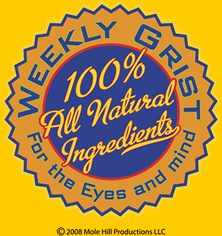 Most of the time, there is more to the Photo of the Week story than can be told in an essay. And most of the time there are more pictures to be seen. Presuming that some folk will enjoy being privy to this trove of information, I have created a blog, "Weekly Grist for the Eyes and Mind," where I am showing and telling "the rest of the story." There are also some blatantly commercial mentions of some of the things we do to earn our beans and taters. Click on the Weekly Grist logo and go to the blog. — J. D.