How many people does it take to groom a five-pound dog? Well, in this case, it takes two. Christine, a year-old Yorkshire Terrier (AKA "Yorkie"), seems to enjoy the undivided attention of Toni Buendpner and Geri Jarolim, out of the photo except for their hands. (See this entire crew in the Weekly Grist gallery, link below). All participants are getting ready for competition in the recent Sweetheart Dog Show, sponsored by the Southeast Arkansas Kennel Club at the Pine Bluff Convention Center.

Sunday, February 6, 2011
Put five hundred or so top-notch, two-legged competitors in one building and the egos will be so thick, normal breathing may become difficult. Walking becomes tenderly tentative as you tiptoe through fragile eggshell feelings.
On the other hand, put five hundred competing dogs in one building and you have that many cases of unconditional love manifested by wagging tails — and nubs . . . . and a slobbery kiss if you're not careful. Big difference.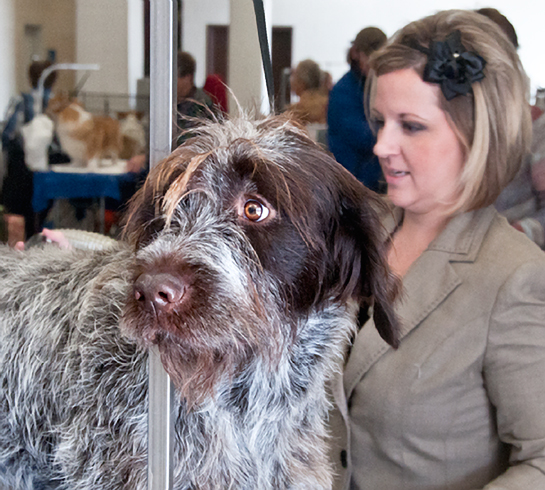 Beau, a Wire Haired Pointing Griffon, casts a wary glance down the concourse as his groomer/handler, Megan Lane of Little Rock, Arkansas, looks on. Beau had his own cheering section off-camera, including his owner, Chris Schaefer, and a couple of her friends.
At the annual Sweetheart Dog Show in the Pine Bluff Convention Center, you would normally see nine hundred to a thousand four-legged competitors and their supporting casts. This year, however, treacherously iced roads in Arkansas kept about half of the expected crowd at bay. To those who attended, it was dog show business as usual, gussy up and strut your stuff, take your chances, and enjoy the company.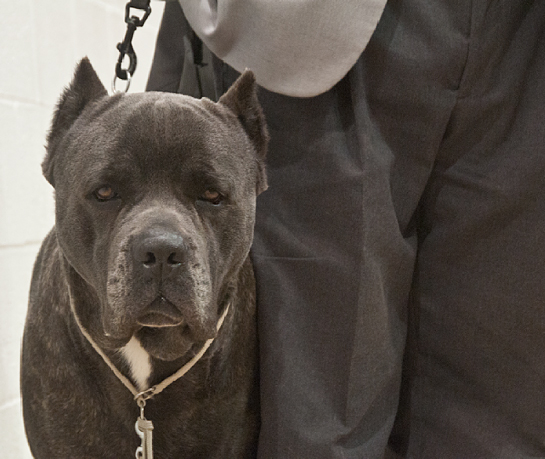 You are looking down the bore at Tank, a Cane Korso, sometimes called the "Italian Mastiff." Tank makes our 105-pound Rottweiler look anemic. Tank's owner, handler, and traveling companion, Martin Herman of Stamps, Arkansas, says Tank has discouraged some break-in artists who had him in their crosshairs. No big surprise here.
Although dog show competition is intense, the prevailing attitude in the grooming area is that of a neighborhood of friends coming together during old home week. It's like competing teams populating the same locker room. Think of 500 beauty shops at once, blow drying, straightening, and curling, all within arm's reach of each other — and with customers who may need to go outside and do their business. Under the circumstances, it is nearly impossible not to grin.
Pursuing a cohesive mindset, what if we required the membership of certain widely known legislative bodies to bring their dogs to work? And if a member didn't have a dog, then require said dogless legislator to either go to the pound and get one, or else resign. Might work.
N O T E S:
Nikon D300, hand held, ISO 2500, AF S Nikkor 18-200mm f3.5-5.6, all. Christine, the Yorkie, 1/40@f5.3; Beau, the Wirehaired Pointing Griffon, 1/160@f6.3; Tank the Cane Korso 1/130@f7.1. Post-processed with Perfect Resize 7 Pro and Photoshop CS5 Extended.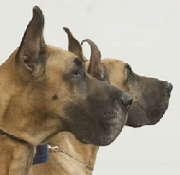 SEE MORE DOGS
at Weekly Grist
for the Eyes and Mind
as we continue shooting
at the dog show, including these
huge and friendly Great Danes.
Click here to go there.


Click the jump wings
to see the previous
Photo of the Week.

Click the camera
for an index to every
Photo of the Week.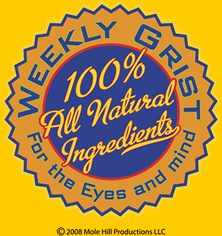 Most of the time, there is more to the Photo of the Week story than can be told in an essay. And most of the time there are more pictures to be seen. Presuming that some folk will enjoy being privy to this trove of information, I have created a blog, "Weekly Grist for the Eyes and Mind," where I am showing and telling "the rest of the story." There are also some blatantly commercial mentions of some of the things we do to earn our beans and taters. Click on the Weekly Grist logo and go to the blog. — J. D.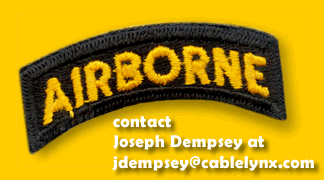 ---
---
---
---
---
---
---
---