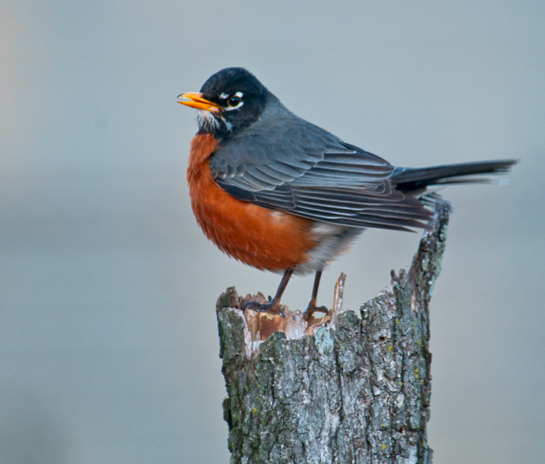 Sunday, February 12, 2012
In 2011, I found my first bed of blooming jonquils (aka daffodils) on February 20 near Kingsland, Arkansas. At the time, I believed the flowers were making an early appearance. This year, on February 7, while on my way to jury duty, I spotted a healthy stand of brightly blooming jonquils. In that condition, this was surely not the first day of their annual performance.
A couple of days later, in the late afternoon, I went back to photograph the flowers and got a bonus, to wit: the fat Robin you see above. I was able to shoot from inside the truck, so he did not spook as soon as he would have under different circumstances. He was not an early bird, but he did get his worm, which you can see at Weekly Grist for the Eyes and Mind.
Because the jet stream has pretty well stayed north since what should have been the onset of cold weather for these parts a few months ago, our winter has been mild, perhaps even puny as winters go. Seventy degree weather in January and February is about as non-winter as it gets. This not only plays hob with your sinuses, it tricks plants into thinking it is spring, when in fact, the ground hog has indeed seen his shadow and there are at least six more weeks of basketball.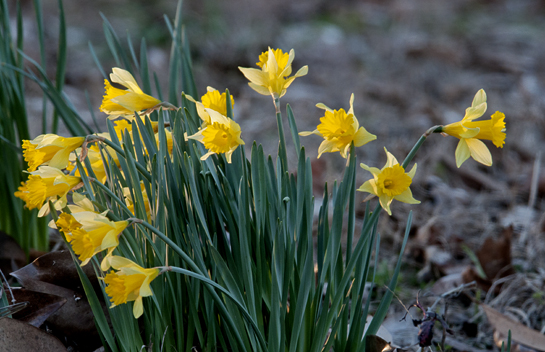 Most people call the jonquils I was after "volunteer," because they follow their genetic instructions with no human interference. Their home is an empty lot, formerly the site of a home. The home did not last but the flowers did. I suppose while the home was still in existence, the flowers were in a "bed." Once the house and people were gone, they became "volunteer." This lends credence to the idea when some things are working, they are best left alone.
The upshot is there are a lot of flowers early this year. We have high hopes that Mother Nature does not play one of her nasty tricks and foist a late Arctic Clipper on LA (Lower Arkansas). The Old Girl has done it before and zapped millions of unsuspecting azaleas in the process. We have our fingers crossed. We need to. A showering of ice is predicted for the morning.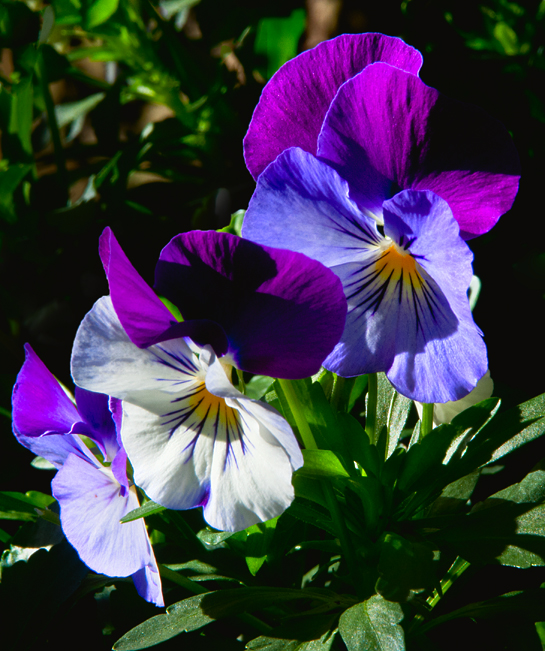 My neighbor across the street, in diametric opposition to my deplorable horticultural proclivities, is a master gardener. Their yard is generally the best in the neighborhood when it comes to dazzling flowers. I would be remiss by not including a sample. This pansy is one among many flowers that have poked through the mulch, enriched soil, and bark to brighten our neighborhood.
These observations are made with full understanding that we cannot do a frazzling thing about the weather. However, it does make for good Monday morning banter.
N O T E S:
Nikon D300, hand held, all. Bird, AF VR Nikkor 80-400 f4.5-5.6D, 1/125@f5.6, ISO 400; Jonquils, same lens, 1/160@f6.3, ISO 500; Pansies, AF S Nikkor 18-200, f3.5-f5.6, 1/100@f20. ISO, 200. Post processed with Photoshop CS5 Extended.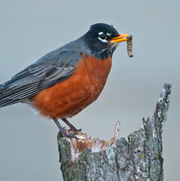 SEE THE BIRD
WITH HIS WORM
at Weekly Grist
for the Eyes and Mind,
along with more flowers
from the neighbor's yard,
a good way to bring some color
and delight to a winter day.
Click and look.


Click the jump wings
to see the previous
Photo of the Week.

Click the camera
for an index to every
Photo of the Week.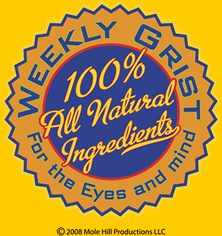 Most of the time, there is more to the Photo of the Week story than can be told in an essay. And most of the time there are more pictures to be seen. Presuming that some folk will enjoy being privy to this trove of information, I have created a blog, "Weekly Grist for the Eyes and Mind," where I am showing and telling "the rest of the story." There are also some blatantly commercial mentions of some of the things we do to earn our beans and taters. Click on the Weekly Grist logo and go to the blog. — J. D.