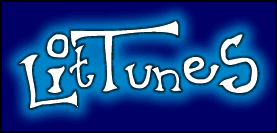 The Path
to Literacy
Follows the Beat
of a Favorite Pop Tune

By Christian Z. Goering
Fayetteville, Arkansas
November 15, 2007
Brown transparent spools from the smashed audio cassette rolled across the classroom floor. Shattered plastic with white lettering crackled under Sarah's feet as she ran from the room, horrified at what had just happened. I was horrified, too. Sarah was my best friend; in the great cottonwood in my backyard, we shared a tree house that we had painted lime green. We could talk for hours until one or the other of us had to go inside for supper, or homework, or some other mundane fifth-grade happening.
Sarah ran out of the classroom that day in tears. It was 1989 in rural Kansas — and I felt a rage usually directed at my step-mother or anyone who called me fat. What had happened to ruin such a promising day?
The 'Cherry Pie' Turned Sour
Our music teacher had given us an assignment the day before. "Bring one of your favorite songs to school tomorrow," she said. "We'll play it and then the class can talk about it." I chose Motley Crue's "Dr. Feelgood" without a moment's hesitation. Sarah picked "Cherry Pie" by Warrant, our other favorite song. Sarah and I were close. Sharing favorites seemed natural to us. We were excited about the assignment, too. Anything would be better than another day of singing "do re mi" off key.
Or so we thought.
The teacher played Sarah's song first. The third time through the refrain, "She's my cherry pie/ Cool drink of water such a sweet surprise/ Tastes so good make a grown man cry/ Sweet cherry pie," our teacher erupted. She ripped the cassette out of the boom box and hurled the tape across the room at me and Sarah. It shattered on the basement wall just above our heads. I still cannot imagine what kind of a person, let alone what sorry kind of teacher, launches a guided missile across the classroom at her students.
A Teacher Descends
into Scorn and Admonishment
"Cherry Pie" may not have been school-appropriate by most standards, but we didn't receive any restrictions with the assignment, just that it had to be a song we really enjoyed. "Cherry Pie" was it for Sarah — and why not? It had sexually charged lyrics, a killer beat, and a video that reemphasized the content of the song — what more could fifth graders want?
The irony was that the teacher didn't dig through the layers of meaning to determine that my song, "Dr. Feelgood," was equally offensive, if just a bit more subtle.
More damaging to our egos than shattered tapes were the scornful words our teacher hurled at us.
"This is trash, garbage, and nothing but filth; I should report you to the principal for even bringing this in class." Our teacher's angry admonishment rings shrill in my ears yet today.
Tears Dry, but Memories Linger
She knew better. What sensible adult would endanger a classroom of young students by chucking a cassette across the room? She came to her senses, too. She quickly realized she didn't want our parents involved, so the matter was dropped. Sarah's tears dried.
I earned a 47 percent in music class that term, which led to a pretty serious sit-down conversation with my father. Personally, I was proud of the 47. It meant I wouldn't have to go out for music again. In my mind, popular music didn't belong in the schools, and I didn't belong in music class.
Three years later, my eighth-grade teacher brought in Pink Floyd and "wanted us to listen to it and write and see where the music takes the writing."
"Pink Floyd sucks" is what I remember saying. My not-so-musical mouth landed me in the hallway for the rest of that day. After-school detention was soon to follow. My protest? It was of the silent kind. Wasn't I entitled to my opinion on the music of the day? I was convinced then that teachers didn't need to play pop music in their classroom — and I still don't care for Pink Floyd.
Blast the Roadblocks!
On the Path to Advocacy
Time passes. Attitudes change. Somewhere in the transition I became an advocate of pop music in the classroom.
During my first year as a public school teacher I struggled to find stuff — activities, assignments, materials — that really worked with my students. I also never quit looking for solutions, and began to turn more and more frequently to popular music. Tunes, I discovered, directed my students toward an avenue where conversation about more serious, literary topics could take place. Pop music dismantled roadblocks between students and their peers, between students and literary texts, and between students and their befuddled teacher.
I wondered if maybe the teachers from my past were just trying to do the same: to reach the unreachable and reform the incorrigible.
I've learned that it's best to accept musical differences, welcome the diversity of genre and artist, and be very clear at the outset about expectations of appropriateness. With the rules in place and the academic goals clearly defined, my students can go to work, analyzing songs for meaning, and then connecting the ideas they discover in lyrics to parallel ideas in novels, short stories, poems, and plays.
I also found myself becoming more and more immersed in their music. Students brought mix CDs to share with me and others. Music became a constant and productive discussion strand in our classroom.
While literature and composition provided the steady diet of daily consumables in my language arts classroom, popular music injected zest, flavor, and taste to whatever it was we were doing. Our musical identity became a focal point of the school day. When I brought (out of long retirement) my father's old Onkyo speakers to school and connected them to my mother's 1971 amplifier, we were blasting thundering music down the hallways between periods. That inspired my students to bring in leftover speakers from home and help build a surround sound system in the classroom.
One Connection Leads to Another
My mentor and best good pal is Matt Copeland. One day, while searching for something to do, Matt opened a net browser and soon stumbled across the "Songs Inspired by Literature Database" (www.artistsforliteracy.org), a resource not completely dissimilar to LitTunes. The "Songs" database at that time (2004) provided about 200 different song-to-literature connections. It was a good idea, but the scope was limited. Matt and I began to think about expanding the types of connections our students could make.
Matt wrote a draft of an article about the idea of bringing pop tunes into the English language arts classroom with the goal of promoting literacy. Though plans for the article never fully materialized, he did organize a group presentation at the Kansas Association of Teachers of English conference in October of 2005. Preparing for the presentation, Matt and I asked Roger Caswell to join us in compiling a database founded on the idea of music and raised on the successful lit-tunes projects we had developed with our students. It didn't take us long to realize that we didn't know enough about the literary canon or the pop music catalog to compile a comprehensive list. Solution? We enlisted the help of our first audience by giving them time to add to the list with the promise we would send them an updated copy via E-mail.
The lit-tunes concept and database continued to grow after a presentation at The Writing Conference in the early spring of 2006. We got another boost in November following a presentation in Nashville at the National Council of Teachers of English Annual Convention.
That was a year ago. Today the LitTunes Connections database continues to grow and expand thanks to the contributions of teachers and students across the USA.
In a Phase of Renewal,
Collaboration Remains Essential
While the list remains intact in a downloadable format, it now enters a new phase in the context of LitTunes.com. In essence, the project enters a cycle of rebirth and renewal. Collaboration is and shall continue to be the key to the success of the endeavor.
Please accept my open invitation to participate in LitTunes.com. For starters, you can register for our non-obtrusive E-mail updates on the Register page. You also can submit related lesson plans, write a feature essay on topics attuned to the LitTunes platform, or share your own song and literature connections. I urge you to join the effort. The Contribute link at the top left of this page will direct you.
I am reminded of a closing scene in the 1986 cult film Crossroads, a fictitious tale about Eugene Martone, a young blues guitarist played by Ralph Macchio. Martone liberates the legendary bluesman Willie Brown, played by Joe Seneca, from a minimum security nursing home, and leads him to the crossroads in a quest to reclaim Willie's soul. Standing at the desolate Mississippi crossroads on Highway 61, Brown urges Martone to "take the music past where you found it." It's a message that works for LitTunes, too. Whatever it is you find to do with the information hosted here in the open spaces of the web, I urge you: Take it past where you find it.