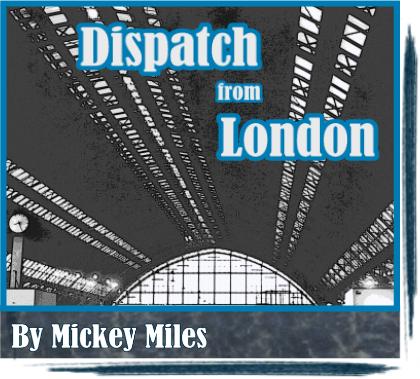 Dispatch Number Three
---
Beggars
At the Banquet.
---
DATELINE:
Wednesday, October 11, 2000, at 1200 hours CDT.
London, England.
EDITOR'S NOTE: Mr. Miles is a professional journalist and political operative who moved to London in summer, 2000, to explore a new line of endeavour.
London, England, is one of the wealthiest -- and one of the most expensive -- cities in the world. It ranks ahead of New York, for example, in the cost of living. Tokyo is ahead, so is Hong Kong. A two-bedroom home here rents for $2,500 a month. That's right, RENTS for that amount, maybe $3,000 or $4,000.
London has a huge number of beggars and the British don't know quite what to do about them. You see them sleeping on benches not far from Buckingham Palace. They rig up crates in the subways and put their sleeping bags on top of them. Actually a pretty good idea if you are homeless -- warm, dry. I walked by three of them the other day, two guys and a girl, all blissfully sleeping away. They were in the Hyde Park Underground. And they are young. So many young men, mostly, hanging out around the subways looking for some spare change.
I do not give them money. Well, at least, not most of them. I must admit I have a favorite beggar, who I will get to in a moment.
Every single beggar I have seen has a sleeping bag. They lie on the sidewalks, usually with a cardboard sign saying something like "homeless -- please help."
Sometimes I think I will say, quite out loud: "But are there no prisons? No workhouses? Bah. Humbug."
Two Young Men Get More Than Spare Change.
Old beggars I feel sorry for, not young ones. The other day I walked up to cross a street and there were three or four people waiting for the light to change. Two young men were lying on the sidewalk nearby, tucked in their sleeping bags.
Okay, I admit. I had downed a pint or two.
"Spare change. Have you got some spare change?"
"Yes, I do. Thanks for asking," I shot back over my shoulder.
Silence for a minute. Nervous laughter from the observers.
"Well, you're a loser," one beggar rejoins.
"Yah. A loser!" Louder from the other.
I ignore them for a moment, hoping the light will change, and regretting I had said anything. The observers are shooting quick glances at me.
"Loser! Loser!!"
I turn and face them.
A Steak, a Beer, Fight or Flight.
"I have 150 quid in my pocket and I think I will have a nice steak and a beer tonight," I sneer at them. If either one stands, it is either flight or fight. And I promise you, I will kick the mortal shit out of them if either one tries to stand.
Neither one does. Both of them mutter something.
The light changes and the observers to this little play hurry on.
I take my time and walk on, but I wanted out of there.
"Loser!"
"Shithead."
They lose their fear and loose the invective on me as I walk away.
Like I said, I don't give to beggars, except one.
The Lady in Front of the Church.
I go to church every Sunday and there is this one lady. She is an ugly old florid-faced, blond-headed woman who sits in a blue sleeping bag on the sidewalk outside of the church. I feel sorry for her. I imagine she is partly crippled and on her last legs.
I guess it is the combination of church and prayer that gets me, but I always drop 50 pence (.75 American) in her paper cup. She always says in the nicest voice: "God bless you, Sir." It makes me feel a bit better. Of course it quickly passes and I can go back to being my mean old self.
This went on for several weeks.
One morning I go by the church earlier than usual because I was going to get my wife a coffee, a croissant, and a newspaper.
Coming down the sidewalk is the beggar lady. Walking strong and healthy. She has her sleeping bag inside of a trash bag to keep it dry. She looks 10, maybe 20 years younger. She doesn't notice me, she has her eye on her place.
There is a male beggar in her spot.
"Get the f*** out of there! That's me spot. Go on! Get the f*** outta here!" And she means it, too. You can see the anger in her eyes and feel it in her voice. You know she is just about to give this guy the business!
He complains and cusses, but it is only to save face. He moves on.
So, I've been had. That day I didn't give her money when I came out of church.
I go to church at 8:30. Later in the day, around five, I happen to go by the church again and there she is. This time I give her money. She has earned it.
Tough ole broad.
Why Must She Sing for His Supper?
One other beggar stands out. You might call her an entertainer. She is probably six to eight years old and plays the accordion. She stands, seemingly alone, underneath a canopy outside of the Hyde Park underground exit. She plays and sings a bit. She has a long dress on and sometimes I see a younger boy with her, probably her brother.
This is strange, I think, the first time I see her. Little girl alone, playing for strangers, small paper cup on the ground.
Why would any parent put his little girl on the street like this? She looks so vulnerable, although she shows absolutely no fear. She looks up at the passing adults with large brown eyes and long brown hair, playing a song I can barely hear.
This doesn't make sense. You expect adult beggars, not children. It is no accident that she is one block away from Harrods, the most exclusive shopping place in the world.
I realize quickly she is a gypsy and sure enough there he is -- an adult male, probably her father, standing back in a doorway, watching. That is good in a way.
We lock eyes and I mean lock eyes. He is 40ish. We have the look of understanding as I pass his daughter (?) to my right. I don't contribute. Our eyes never left each other.
It was like something you would see out of a movie. When we locked eyes, we also locked thoughts: "Why would you put your little girl out here? She is so tiny, and so vulnerable."
"It is not your business, goyum. Move on."
"But you are using her to beggar money for you."
"Shut up. Keep moving. Not your concern."
I move on and as I walk down the sidewalk in front of Harrod's, the imaginary conversation continues.
'Now, Move On Before I Stick You.'
"You have no right to judge me, English. You use children, always use children. My little girl raises money for her family and she is proud of that. Now, move on before I stick you."
And that was the imaginary conversation I had with the gypsy. Yes, I felt sadness and anger that he would put his daughter in the street, so young, so small. I would not put my daughter out there, to play for strangers -- to, in effect, beg for a few coins. But I don't live in their world.
Should I be so judgemental? Think about it. What about mothers and fathers who push their children to be child actresses and models for money?
Children should be playing and having fun, not having to raise money for whatever reason.
You decide, but I still felt sadness that someone has to resort to this, but note I did not give her money.
---
---
EDITOR'S NOTE:
WATCH FOR DISPATCH NUMBER FOUR
in your mailbox on Wednesday, October 18, 2000.
If you don't care for any more Dispatches, let us know.
We will remove you from the subscription list
immediately upon your demand.
On the other hand,
if you want to add a friend or associate to the list,
please forward their name and email address to
ebenezer@corndancer.com
Visit the web site at www.corndancer.com
| ©2000 by David Ebenezer Baldwin Bowles |
| Send e-mail | 501.450.7989 |