Of Old and New Conferences.
Of Old and New Friends.
"A scholar's education is greatly improved
by traveling in quest of knowledge and meeting
the authoritative teachers [of his time]."
— Ibn Khaldun (1332-1406), The Muqaddimah.
By Ron Fritze
December 31, 2007
One of the pleasures of an academic career is getting to travel to the conferences of various academic societies. A big reason for attending an academic conference is to give a paper based on one's current research and get feedback and suggestions from other experts in that subject. Another reason is to hear the papers of other scholars and learn about new developments in one's area of expertise. Of course, one of the biggest reasons for attending a conference is to network professionally, meet new friends, or see old friends from graduate school and past conferences.
Hopefully the site for any particular conference is also an interesting city with lots of good places to eat, museums, art galleries, bookstores, and, perhaps, even a major league baseball game. In a nutshell, that is the anatomy of attending an academic conference, although I fear that Thorstein Veblen could have done it with a more sardonic verve.
Sixteenth Century Society and Conference.
On this last day of the old year I want to take a moment to reflect on two special events this past fall. I recently got to attend conferences in October and November. The first was the annual meeting of the Sixteenth Century Society and Conference (SCSC), a group that I have been very actively involved with for over a decade. The meeting this year took place in Minneapolis,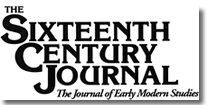 a city that I had never visited, although I had passed by it many years ago on a trip to Seattle with my parents when I had finished eighth grade. It was good to see old friends I've worked with over the years doing the business of the society. My wife Twylia came with me and she got to see the Mall of the Americas for the first time. I picked up the usual armload of books to review from the good people at the Sixteenth Century Journal book review office, attended some sessions of papers, and caught up on the news. It was the usual good SCSC meeting.
The real treat on this trip came at the end of the conference when I got to see an old friend, Paul Vaughter. Almost twenty-five years ago, Paul had chaired a session in which I gave my first or second scholarly paper at the Western Conference of British Studies (WCBS). Paul is a great raconteur and a jovial and interesting person to be around. We have keep in touch through letters over the years but had not crossed paths for a long time. He had continued to attended the WCBS while I eventually settled on being an attendee of the SCSC. Needless to say, we were both older when we crossed paths in Minneapolis. Paul is retired now but he is just as I remembered him — funny, full of historical information of all varieties, and just good company.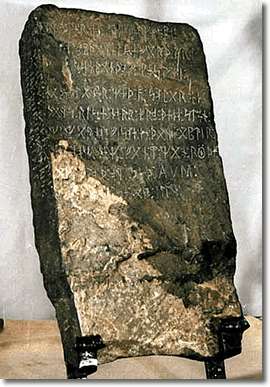 A Trip to the Kensington Runes.
There was another dividend to renting a car and driving to St. Cloud to see Paul. He joined us for a trip just a ways further down the road to see the famed Kensington Rune Stone, which is housed in a little museum located in Alexandria, Minnesota.
I have to confess that I am addicted to visiting places connected with the prehistory of the Americas, whether genuine or fraudulent. In fact, I prefer the fraudulent sites since I am researching the presence and impact of pseudohistorical ideas in popular culture. When it comes to archaeological frauds and hoaxes, the Kensington Rune Stone is one of the big ones, although make no mistake, many people still consider it to be genuine, including the people running the museum in Alexandria.
Olof Ohman "discovered" the Kensington Rune Stone in 1898 while clearing trees on his farm near Kensington, Minnesota. Some reports claim that Ohman found the stone entwined in the roots of a very old tree, but other reports state that the runes carved into the stone had been made fairly recently. The rune stone's inscription told of a party of Norse traveling through the wilderness of old Minnesota in 1362. Hostile natives had already killed ten of their group. It has been suggested that the Norse who wrote the rune stone were members of the expedition of Paul Knutson, who had been sent to check on the Norse colonies on Greenland in 1355.
Hail Leif! Let's Sail a Longship.
The timing of the discovery of the Kensington rune stone in 1898 was not exactly coincidental. Scandinavian-Americans had regarded the recent Columbian Exposition of 1893 in Chicago with a certain amount of ire. This monumental world's fair was dedicated to honoring the achievement of Christopher Columbus in discovering the Americas. Scandinavian-Americans were angered at the neglect of Leif Ericsson's earlier discovery of America in spite of their efforts to promote it, which even included sailing a replica of a Viking longship across the Atlantic Ocean and up the St. Lawrence and the Great Lakes to Chicago.
Ohman's discovery of the rune stone provided archaeological proof of the veracity of the Norse Sagas — or so its supporters claimed. The problem is that the Kensington rune stone from its first appearance was considered a hoax by the experts.
Residents of Kensington and the surrounding area were highly enthusiastic since it promoted Scandinavian pride and put them on the great map of American history in a far more significant and exciting way than twenty Little Houses on the Prairie. After a period of time, Ohman became disgusted with the negative response to his discovery. He took it back to his farm where he used it as a stepping stone.
Hosed by the Smithsonian.
Interest was revived in 1907 by runes champion Hjalmar R. Holand. He was called a historian by some, but he made his money as a vacuum cleaner salesman. His quest to authenticate the rune stone, which continued for decades, included sending it to the Smithsonian Institution for study. Unfortunately that close study resulted in it being once more declared a fake, but Holand remained undeterred.
Other debunkings have appeared in print over the years, but like Holand, supporters of the rune stone remain unshaken. Their reaction is understandable. What could be more fun than believing that Vikings roamed Minnesota centuries before Columbus reached San Salvador, before the first Norwegian bachelor farmer broke the Minnesota sod with his plow, or even before American football had been invented?
The museum at Alexandria is a small modest place. It contains a lot of nice artifacts related to the Native Americans of that region and the early pioneers,

but pride of place is given to the rune stone. When we arrived that day, I was excited. I had only seen pictures of the rune stone. In my mind's eye it was much bigger than it actually turned out to be. I had imagined a block of stone more than six feet tall, four feet wide, and about a foot thick. In fact it was about half that size, being a bit over three feet tall, two feet wide, and about six inches thick. I did get the color correct - a sort of a dull black.
A True Artifact of Pseudohistory.
The Kensington Rune Stone is nicely displayed on a heavy metal stand, which is needed since the stone weighs over two hundred pounds. I did not experience the slightest disappointment when I saw the size of this curious relict of the past. I was standing face-to-face with a true artifact of pseudohistory — the anti-matter of history, a siren for the gullible, and a tangible aspect of a phenomenon that I have been researching for a number of years. For historians, that is called fun — and I think Paul enjoyed the experience too, although Twylia was somewhat less impressed.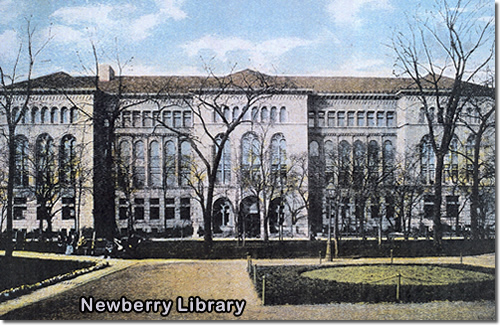 My second conference was the annual meeting of the Society for the History of Discoveries (SHD) at the Newberry Library in Chicago. I have been a member of the SHD for more than a decade. They publish a wonderful journal called Terrae Incognitae. Anyway, it is wonderful if you are interested in the history of discovery and exploration. I am.
It was my first time to attend an SHD meeting. I was going because I had been nominated to serve on the SHD's council. It was an honor I was glad to accept and also an opportunity to meet some new scholarly friends during my three days in Chicago.
Festival of Maps at the Field Museum.
I also went to see the magnificent Festival of Maps, which included a fine display of maps at the Field Museum of Natural History. The maps in the collection were from all times, places, cultures, and types. It was a real education. I could have used more than the hour and a half that I had for viewing. As it was, I did not get to see hardly any of the rest of the museum except for the bare beginning of the new permanent exhibit called Ancient America with its live action diorama of mammoths trudging through the bogs of the ice age prairie of Illinois. I will have to make up for that during a future visit to the Windy City.
Even worse, I did not get to make my usual pilgrimage to see the displays of Bushman and the Lions of Tsavo. Still it was a rewarding conference. I met new scholars, heard some good papers, picked up a couple more books to review (it's a form of literary gluttony), and discovered that the people at SHD arrange for especially good food at their meetings.
The best part of this Chicago visit was getting together with Rudi Heinze and his wife Mildred. Rudi started out as my undergraduate advisor at Concordia College in River Forest, Illinois, although the school now bills itself at Concordia University–Chicago. He was a tremendous mentor, then and now. And he and Mildred are both dear friends. I took the El out to Oak Park to meet them at the Borders Bookstore at the corner of Lake and Harlem. From there we went for pizza at Giordano's, pleasant conversation, and catching up. Later they dropped me off at O'Hare airport. It was a trip to Chicago where much was learned and much will be remembered with pleasure.

Click on the black panther to read Ron Fritze's previous essay,
"Edgar Rice Burroughs on War and Race."