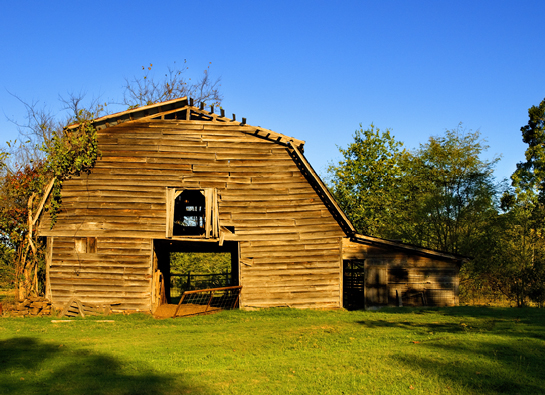 Sunday, August 3, 2008
Tucked away in anonymity, the old barn is slowly but surely losing a protracted, adversarial encounter with fickle eastern Oklahoma environmental shenanigans. The fourth quarter has begun.
Casual observers, reconnoitering the nearby landscape from a vehicle moving rapidly on asphalt, will never see it. You have to know the territory, or roll the dice. I rolled a seven on a gamble of a drive that took me a long way down a long gravel road.
The gravel road showed promise. One could tell by the roadside vegetation and old fences that the origins of the road predated most people alive today. That's usually a good — though not necessarily certain — sign that the explorer will encounter something old and interesting if he just keeps driving.
Someone had their head on straight when they decided where to build. The barn is well sited at the top of a hill. It sits in an immense cleared area with an unfettered, and I might add, uncluttered view of the barn front. Close to ideal conditions for aspiring barn photographers. The barn is still relatively complete and not stripped of boards and hardware, a testimonial to its remoteness.
If you have more than a modicum of curiosity, your imagination can run amok conjuring up mental pictures and opinions of what went on in and around old barns. I have touched on this subject before:
Drag Up and Listen.
And before that:
Happenstance.
In all likelihood, the owner or owners of the barn pictured on this page were prosperous. Its size and excellence of construction hint strongly of the ability to invest and hope for a fair return. Because it is far away from civilization, probably even further when it was built, there is a good possibility that lumber for the barn came from nearby woods. In those days it was not an uncommon practice to erect a sawmill on a construction site, fell nearby trees, and rip logs for the lumber. It takes many a wagon load of sawn boards to complete a massive barn such as this one. And it is indeed a long way to town.
See this barn and see it well. It is part of an endangered genre. Unless someone recognizes the structure and chooses to reveal its past, its legend will remain a mystery. A couple of things are certain: It was well planned and served a useful purpose. And, at some juncture, for some reason, its usefulness withered away. But because it was built well, it is withering away slower than the reason for its existence — a fortunate thing for those of us who pause to admire it.
The golden cast of this image comes from a late afternoon exposure captured in October of '07. The sun is lower on the horizon in mid-autumn than it is in the dog days of summer, yielding rich illumination typical of the season.
N O T E S:
Nikon D200 -AFS Nikkor 18-70 f3.5-4.5G ED on tripod. Post processed with Photomatix Pro 3, Photoshop CS3 Extended, and Genuine Fractals Print Pro. And a partridge in a pear tree.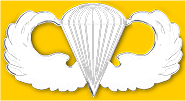 Click the jump wings
to see the previous Photo of the Week. . . .