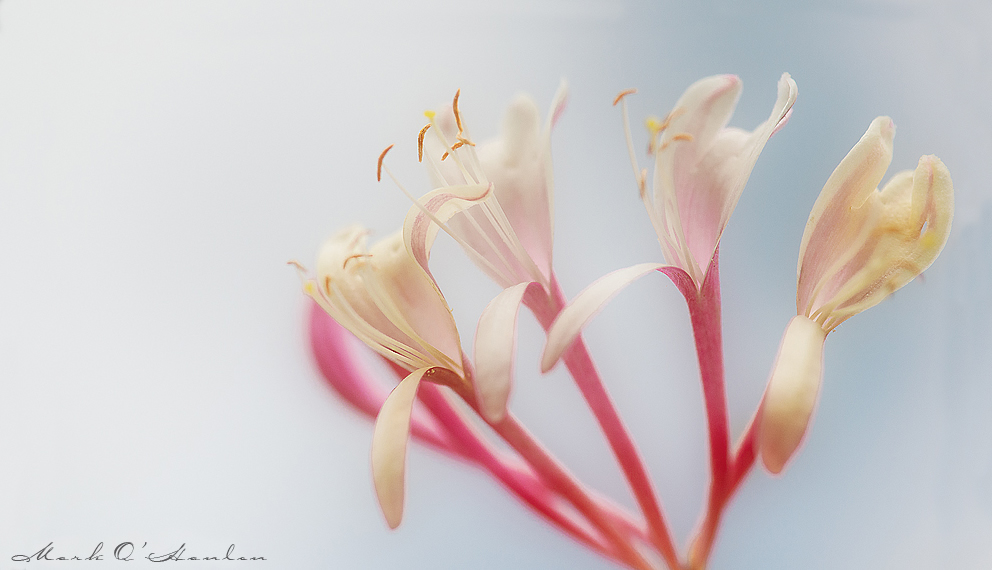 Honeysuckle | Woodbine ∞ Lonicera periclymenum
Around the shores of Loch Morar on the west coast of Scotland • 24 June 2013
Photograph by Mark O

By Mark O
Posted on 19 July 2013

The light above the flowering honeysuckle made it glow with life as it stretched higher for the life-giving sun. I wanted to make sure I photographed the honeysuckle against the bright sky in an attempt to show it reaching for the light, and its source of life.
∞
I know a bank where the wild thyme blows,
Where oxlips and the nodding violet grows,
Quite over-canopied with luscious woodbine,
With sweet musk-roses and with eglantine.
— A Midsummer Night's Dream by William Shakespeare
∞
We'll Meet Beside The Dusky Glen.
We'll meet beside the dusky glen,
on yon burn-side,
Where the bushes form a cozie den,
on yon burn-side:
Though the broomy knowes be green,
Yet there we may be seen;
But we'll meet — we'll meet at e'en,
down by yon burn-side.

I'll lead thee to the birken bower
on yon burn-side,
Sae sweetly wove wi' woodbine flower,
on yon burn side:
There the busy prying eye
Ne'er disturbs the lover's joy,
While in other's arm they lie, down
by yon burn-side.

Lines from a song by poet Robert Tannahill (1774-1810) as chronicled on p.254 in Celebrated Songs of Scotland | John D. Ross editor | William Pagan, Jr. & Son, Publishers | New York 1887


Honeysuckle Glow was posted on Friday, July 19, 2013


A Native of the Isles
Want the facts about Lonicera periclymenum? The Online Atlas of the British & Irish Flora has the answers. When you get there, we recommend the Habitats link for some cool science.
Mark O
You can reach Mark O by e-mail at lord.orior@gmail.com