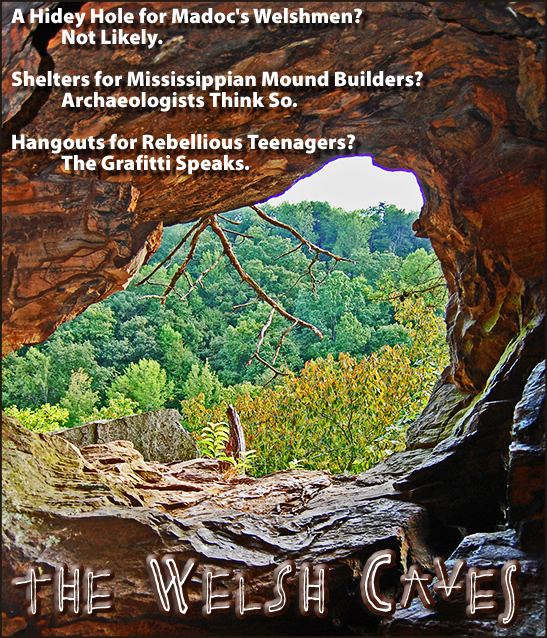 Looking outwards from a Welsh Cave in Alabama
Photo by Ron Fritze ~ September 7, 2012

De Soto Falls, Welsh Caves, Fort Payne:


Another Saga in the Hunt
For Old Prince Madoc.
By Ron Fritze from Athens, Alabama
Filed on September 10, 2012
Posted on November 7, 2012
Several months ago I was invited to speak on Hernando de Soto to the De Kalb County Genealogical Society through the Alabama Humanities Foundation. This invite was my first time to go back to a place where I had lectured before. About five years ago, I visited Fort Payne and lectured on Prince Madoc and the Welsh Indians. I had a wonderful time there. My hosts took me up to De Soto Falls to tour the Welsh Caves along the face of the gorge. At that time I did not have my trusty Nikon D-40. So when I got the second invite, I knew it was a golden opportunity to get some pictures of the Welsh Caves.
Fort Payne and the nearby town of Mentone are located at the southern end of the Appalachian Mountains in northeast Alabama. It is a beautiful drive to get there. After leaving Huntsville, one drives down Highway 72 as far as Scottsboro. At that point the route turns onto Highway 35. That road crosses a big bridge on the Tennessee River and immediately ascends up Sand Mountain. It is the most impressive part of the journey.
Traveling across Sand Mountain, after about twenty miles one arrives in Fort Payne at I-59. The trip takes less than two hours and is about 95 miles. Twylia and I had left about 12:30 and had not eaten lunch. So we looked for a place to eat and saw the Santa Fe Steakhouse. We'd never heard of it but wanted to try something different. It is not all that different as the Santa Fe Steakhouse is pretty much along the same lines as a Logan's or a Texas Roadhouse. We both got hamburgers, and they were quite good. Our waitress was named Terrie and was friendly and efficient. So it was a good experience. We told her that we were headed to De Soto Falls and she told us that her daughter worked at the visitors center at De Soto State Park.
From Summer Haven, the View
Of De Soto Falls Is Magnificent.
Before going to Fort Payne, I booked Twylia and I for at night at the Summer Haven Bed and Breakfast run by Bill and Christina Wise. Summer Haven is located on the edge of the hollow across from the De Soto Falls. It is a magnificent view. I had met Christina during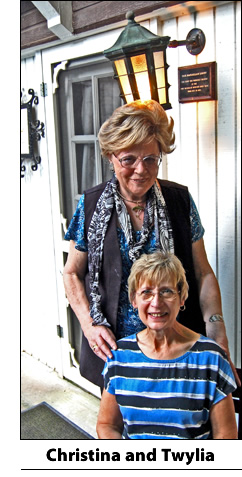 my first visit, and she hosted the excursion to the Welsh Caves. From Fort Payne it is about twenty miles of mountain driving to get there. I had been to visit De Soto Falls twice before, but the first time someone else drove and the second time, I had a GPS. This time I was off my directional game. It was a good thing that Twylia was there to spot signs or we would have gotten lost.
We arrived at Summer Haven, and Christina got us checked in. She immediately provided us with a bottle of Pinot Grigio. They have a nice lookout facing the De Soto Falls, so Twylia and I went down there. But I wanted to see the Welsh Caves, so I headed that way. I knew that I had better wait on the wine as this little trip would involve some cliff climbing. Twylia didn't join me as she was not too high on the cliff-climbing idea or the poison ivy and biting bugs factors. I did the five-minute walk in the woods, then began my climb down to the caves.
The Welsh Caves are one of the major sites on the Madoc circuit. According to Madocian accounts, after Prince Madoc and his medieval Welsh colonists landed in the vicinity of Fort Morgan on Mobile Bay, they made their way north. The basic pattern was that the cultured Welsh would settle in an area and make it prosperous. But their presence aroused jealousy and fear among the Native Americans, who would band together and make war on the Welsh until they drove them out. So the Southeastern United States has a peppering of abandoned Welsh settlements — or so the legends go.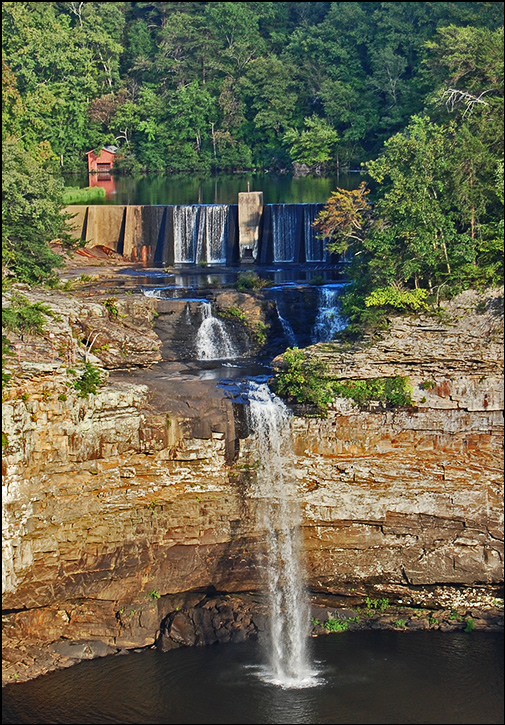 The De Soto Falls
Photo by Ron Fritze ~ September 7, 2012
Dichotomy of Interpretation
On the other hand, professional archaeologists consider these Welsh fortifications to be ceremonial works built by the Hopewell or Mississippian mound-building cultures. An example of this dichotomy of interpretation is the works at Old Stone Fort at Manchester, Tennessee. Another of these temporary residences are the Welsh Caves at De Soto Falls.
The Welsh Caves are located on a cliff face, making them safe from hostile natives or marauding predators like bears or mountain lions. As you can see from the pictures, these caves were never comfy Hobbit holes. While the caves are capable of providing shelter, I noticed puddles of water on some of the floors, so the cave roof has breeches that allow rainwater to seep through. Any group living there could not have been too large. It would have been rather cramped for forty people to live.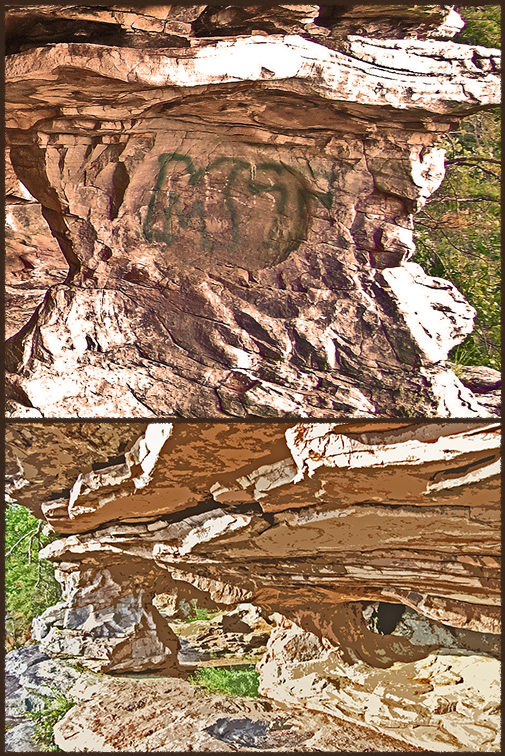 The footing is treacherous and the grafitti annoying.
Photos by Ron Fritze ~ September 7, 2012
Popular for Lots of Reasons
Stories tell of the caves having had stone walls, not that any of the chambers are particularly large. When I visited the caves the first time, some of the people who were about my age or a little older told of visiting the caves and seeing remnants of walls. Another strand of the story claims that local people cannibalized the stonework in the caves to build fireplaces and walls in their houses such as Summer Haven. The local property owners vehemently deny the truth of this story.
It is clear that the caves are popular spots for teens to hangout. I gather that a lot of beers have been drunk there along with smoking cigarettes and perhaps less legal substances. No one told me about any teenagers going over the edge, but it would have been a nasty fall.
I climbed down and got plenty of photos. As those who know me know, I am not particularly coordinated and I don't like heights, so I was moving slowly and carefully. It was a bit hot that day and quite humid, way too sweaty for comfort. I recommend visiting the caves on a cool day. Also keep in mind, they are on private property.
We settled in for the night and got some good reading done. I was reading Laura Joh Rowland's new mystery, The Ronin's Mistress. The next morning we got up, breakfasted, dressed for the talk, and headed out after saying our good-byes to Christina. We went over and took a closer look at the De Soto Falls. The water was running fairly well with much more volume than my first visit but significantly less than my second visit during a rainy December. We then headed back to Fort Payne.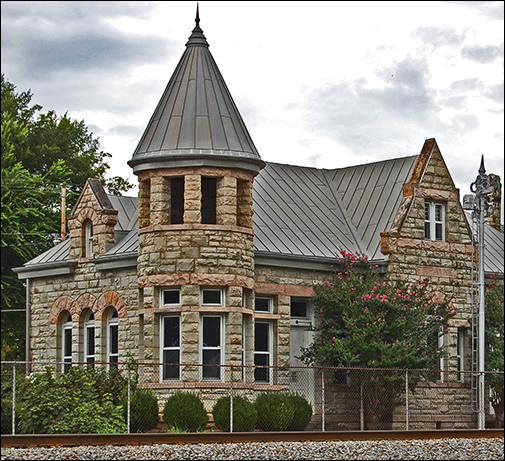 The Fort Payne Depot Museum
Photo by Ron Fritze ~ September 8, 2012
The Sox Are Gone, but the Town
Retains its Charm and Beauty.
The Fort Payne Public Library is a well-stocked facility. Its collection fills the current building to overflowing, and that includes a very impressive genealogical research collection. An expanded building would be warranted, but in this economy finding the funding is tough. The De Kalb County Genealogical Society holds its meetings in a very pleasant conference room with a big long table and wood paneled walls with a fireplace. Sort of like a fellows' commons room at an Oxford or Cambridge College. The people of the society were friendly and hospitable and an attentive audience. We had a good time, and afterward they had a potluck lunch. I may well get asked back for a De Soto Commemoration in a year or two. And I would gladly go back to Fort Payne.
Fort Payne is a town of 14,000 people with some interesting history. It was the staging area for sending the Cherokees west on the Trail of Tears. There was later an abortive iron and coal boom in the area during the late nineteenth century that turned out to be a false alarm. However, during the frenzy the town managed to build a fine Victorian style railroad depot, which now serves as a local history museum and Opera House.
Later Fort Payne achieved fame as the sox capital of the world, featuring numerous factories for making socks. Alas, the sox industry is all gone as the jobs have been sent overseas.
It is a pretty town situated along a valley between two ridges of mountains — long and narrow with lots of attractive older buildings. Right now the town makes a living as a tourist stop for people wanting to visit the mountains. But tourism doesn't provide enough of an economic boost to make up for the loss of revenue from the sox factories.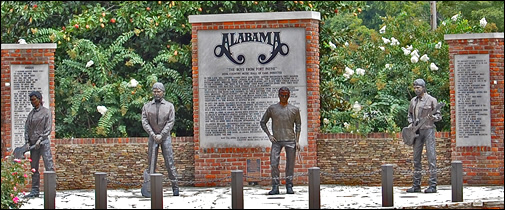 CUTLINE
Photo by Ron Fritze ~ September 7, 2012
Forever Alabama!
The members of the musical group Alabama are all from Fort Payne, and they have not forgotten their hometown. They generously support the schools and hospital. You will see a nice statue of them in the park near the Depot Museum. Their fond memories of Fort Payne are not surprising. The place exudes the feeling of being a great place to live and to grow up. So if you are looking for a nice trip, Fort Payne and the De Soto Falls are a wonderful location with great scenery and lots of history.



Of Madoc and Monitors:
A Trip to Mobile Bay

Mounds, Madoc, the Slick Pig,
and a Civil War Battlefield Park:
Peregrinating With Jeremy Black

Prince Madoc at the Falls of the Ohio:
Did Welsh Warriors Settle in Early America?

Finding Old Madoc
at the DAR in Mobile.